Langebaan Main Beach
Kitesurfing spot information
Langebaan is a great kitesurfing spot . There is a wide beach which is perfect for beginners. The water is flat with a little chop. Langebaan Lagoon is also great for freestyle and freeride kitesurfing.
Important to know is the strong current when the tide is going out. The current can be incredibly strong and that can make kitesurfing in a SE wind very unpleasant. You spend most of the time trying to get wind to your starting point. The other way round, when the tide is coming in, it can be perfect, effortless kitesurfing on Langebaan Main Beach.
After a day of good kitesurfing you can grab something to eat and to drink in one of the great restaurants located on the beach of Langebaan. Best recommendation is Pearly`s restaurant. There are also shops available.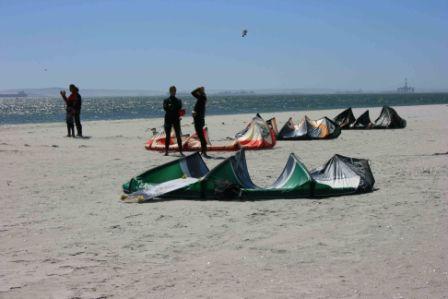 How to get there and rigging areas
From Big Bay Bloubergstrand, drive north (with the sea on your left). At the intersection with the R27, turn left, drive to Velddrif. Follow this road for about 60 km, until you reach the Langebaan turn off at the Caltex Garage. Turn left here, and follow the road in to the town. At the main intersection, turn right, and this will take you to the beach. Rigging on the beach.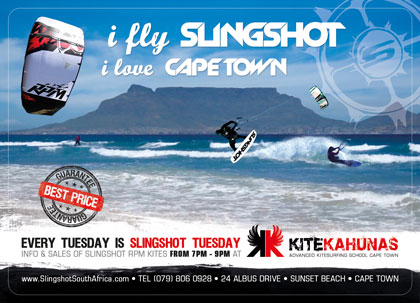 Wind forecast and map