Sunset Beach
Kitesurfing spot information
Sunset Beach is on the doorstep to Kitekahunas Advanced Kitesurfing School, and is undoubtedly one of the better kitesurfing spots in Table Bay. Offering tranquil and luxurious surroundings, good South Easter winds through September till April, there is no doubt that it is one of the favorable kitesurfing spots in the area.
Sunset Beach offers an excellent all round kitesurfing spot, accommodating all levels of riders. The wind is often better in the mornings, and due to its ideal location is also a popular spot for windsurfers. Be sure to make use of the Downwind Shuttle, which allows you to perfect your riding skills, waveriding technique and general freeriding without having to worry about staying upwind.
Sunset Beach is the Premier Wavesailing Spot on the South African West Coast and is has the best wind in world famous kitesurfing and windsurfing location "Table Bay" in Cape Town, according to the web site Wavesailing. And they are right. The wind is here at Sunset Beach, the home of Kitekahunas - Advanced Kitesurfing School - stonger, earlier, less gusty than on other beaches here, and the waves are more constant and the water less choppy. Looking forward to see you at the Kitekahunas Beach House, directly on Sunset Beach!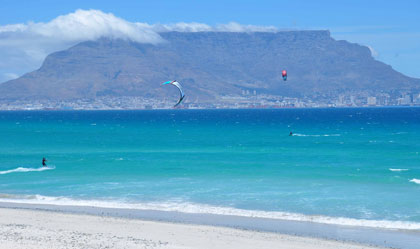 How to get there and rigging areas
From central Cape Town, take the N1. Take the R27 Paarden Island /Milnerton turnoff (Marine Drive). Continue along this road. Take first entrance of Sunset Beach follow the road and take the first or second road to the left. Here you find parking area. Rigging on the beach.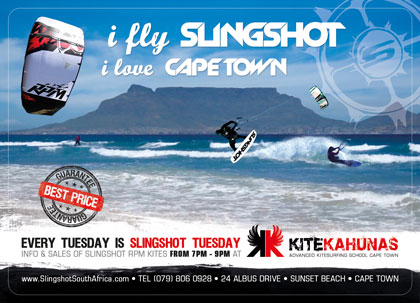 Wind forecast and map