Guided & Safe Kitesurfing
Don't WANT to register on one of our advanced kitesurfing courses? But still want to kitesurf in a group and not all by yourself? Then KITEWISE - GUIDED & SAFE KITESURFING - might be just right for you!
You want to visit the great kitesurfing location Cape Town - people speak of the world's kitesurfing capital? But you feel a bit overwhelmed with the many kitesurfing beaches with a huge variety of conditions in Cape Town, from flat water to smaller and larger waves, and downwind spots? You want to be at the ideal kitesurfing beach every day, depending on the wind conditions? You want to be in a group and you like some hints and tips from one of our instructors, e.g. like how to deal with waves? Our Instructors will keep an eye on you during the day, to advance your kitesurfing skills and for your safety.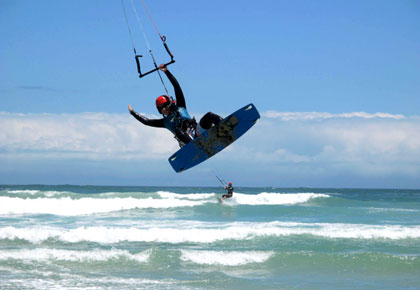 You also need some guidance when visiting some of the 30+ super kitesurfing spots around Cape Town? You would like to have somebody experienced, who will discuss your options and do some planning with you every evening and every morning, depending on weather conditions and wind?
In general you don't feel 100% confident in kitesurfing alone or you haven't been on the water for quite a while?
Then KITEWISE - GUIDED & SAFE KITESURFING -is right for you!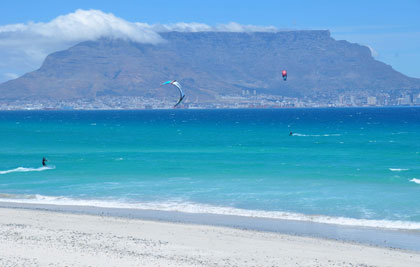 All participants in the KITEWISE - GUIDED & SAFE KITESURFING pool, who decide to follow the "advice of the day" by our instructors will enjoy some form of supervision, hints and tips at this specific kitesurfing spot of the day. The instructor will also keep an eye on you for safety and security.
What to expect from KITEWISE - GUIDED & SAFE KITESURFING:
Accommodation is included, according to the package you have booked with us. Your options are: Budget Accommodation, Kitekahunas Beach House & Luxury Kitesurfing Hotel Cape Town
The Kitesurfing Guide and Instructor will discuss with you the daily options to select your next kitesurfing spot in Cape Town. He/she will give his/her advise on wind, weather, the kitesurfing spot itself, its hazards and peculiarities, how to get there, where to park and where to rig your kite. He/she will also give safety and security guidelines.
The Kitesurfing Guide and Instructor will be at the best recommended kitesurfing spot of the day and observe all our participants in the

KITEWISE - GUIDED & SAFE KITESURFING

group, give hints and tips, possibly try help and rescue, if required.
All participants in

KITEWISE - GUIDED & SAFE KITESURFING

will need their own transport, usually in form of a n inexpensive rented car. Possibly you can do an arrangement and share a car with other participants when you are here. We may also run a small bus there for little money - but don't rely on it.
Your personal kite-storage locker at the Kitekahunas Beach House is included in the price.
UPGRADE OPTION: If you feel after a while that you should rather participate in one of our highly recommended advanced kitesurfing courses, you have the option to upgrade to a kitesurfing course. Transport is included in our advanced courses, so you don't need to have your own transport. On the right is a list of our kitesurfing courses on offer. Click on the links to get detailed descriptions of our kitesurfing course.