Kitesurfing Course - Children & Teens
At KITEKAHUNAS we have developed the expertise to teach kiteboarding to children and teenagers from the age of 9 years onwards. We offer children kiteboarding courses.
Teaching children and teenagers kitesurfing is not the same as teaching kitesurfing to adults. The problem starts with the right equipment, which is not readily available for children. Kites for children need to be small and are fast and therefore difficult to control for a kitesurfing beginner student. Small kites are often less stable, invert easily and many small kites are difficult to re-launch. Also it is a challenge for an adult to guage the right kite size for children. Boards for children are not easy to find and often need to be custom manufactured. Good fitting wetsuits are a problem, and so is it with harnesses, impact vests, helmets and other equipment. It is therefore more difficult for children beginner kitesurfing students than for adults to learn kitesurfing. Also children cannot just follow a normal curriculum for beginner kitesurfing students because you risk that they get scared of the kite, lose interest and fun in the sport of kiteboarding. Keep in mind: You only have one chance. If your child likes kiteboarding, it will have something great for life. Or it loses interest during the course and will never re-gain it.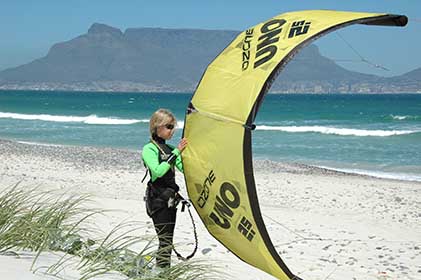 Therefore it is usually a bad idea to go to just any kitesurfing school to teach young children kitesurfing. We at KITEKAHUNAS have developed an expertise in young children kiteboarding courses. We have not only paid our school fees by trying out lots of equipment, and found with this the most suitable kites, boards, etc., but we also have experienced instructors, who teach children in a play-like fashion and progress them at the right speed.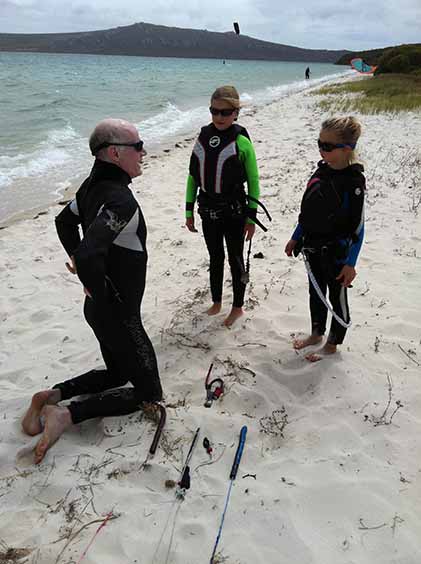 You can book for children our A+B crash course for complete kitesurfing beginners or you can register as a family with parents and children for the 2 weeks A+B kitesurfing crash course. In this case the family will stay together but the adults will be taught at a different speed than the children, who usually progress slower. At the end of the course the adults are usually fully independent kitesurfers and the children are riding, but possibly need another week or two to ride upwind. Nevertheless the entire family will learn the sport together and the adults may take over supervision of the further practise or tuition for their children after the A+B crash course.
Kitesurfing Beginners from kitekahunas on Vimeo.
Please help us and press 'Like'
Kitesurfing equipment for children kitesurfing courses: From day 4 onwards, as any participant of kitesurfing course B (get comfortable in riding, basic transitions and learn riding upwind) children will need their own kitesurfing equipment. You can purchase this with our competent and independent advisory here in Cape Town. Kitesurfing equipment is less expensive in South Africa than in Europe or America and in addition our students qualify for a discount. So it pays off to purchase your kitesurfing equipment in South Africa with KITEKAHUNAS. With these savings you will basically get a part of your course for free! We offer new and second hand kitesurfing equipment. We have lowest price guarantee - money back if you present us a lower offer!
Other than adults we ask you to purchase a kitesurfing wetsuit for the child, a harness and a helmet before the course (possibly in your home town). This is simply because a properly fitting wetsuit, helmet and harness are difficult to find and therefore it is better you take some time before the kitesurfing course to get these items. All other equipment, like kites and board you rather purchase with us and after having received our advice. In the first 3 days, during kitesurfing beginners course A, kites and boards are included for the children, like for adults.

Download Kite size recommendation and Price List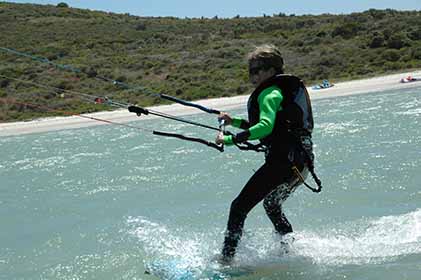 Price for kitesurfing beginner crash course A+B for children: same price as for adults, if booked together with at least one adult. If you book a course for children without adults we ask for 20% sur-charge, because we need to work with two instructors during the first 3-4 days with children, for safety reasons.
We teach in private lessons or small 2 people group lessons per instructor (1:2). This is important for proper learning and your safety.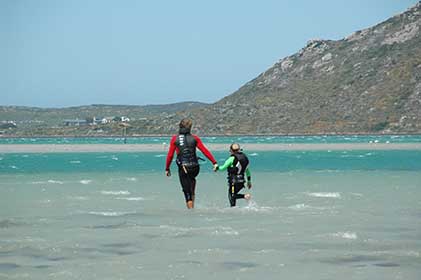 Please select a date for your kitesurfing beginners crash course A+B for your child from our kitesurfing course table.