Clemens Kösters
Doctor
Germany
clemens [a] koesters.org
16. - 21. November 2013 - Course B
It was an awesome experience. Nice team atmosphere. They build up your confidence and give you good feedback how to advance with your kiteboarding style.

Robin Mösli
Merchant
Switzerland
robin.moesli [at] bluewin.ch
23. Feb - 28. Feb 2013 - Course A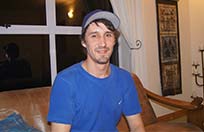 I was a complete beginner and I am very happy with the course and my instructor, Jan. He was very patient and according to him I was a very fast learner. On my 4th and last day we went in the ocean for the first time - perfect challenge for the last day, it was good fun! Accomodation was also fine, the house was directly at the beach.

Christoph Oppenauer

Germany
christoph.oppenauer [at] alumni.ebs.edu
15. Feb - 19. Feb 2013 - Course B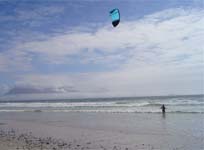 I took my first kiteboarding lessons almost 10 years ago but had long breaks in between. Now I wanted to ride in the waves with the help of an instructor - and it was very much fun. The teaching approch was very good: Jan, my instructor, was on the water with me and gave me feedback through the radio. Sometimes he rode in front of me to show me how to do things and then I tried to do the same. The most usefull lessons I've ever taken - thanks to Jan, he was great.

Thomas Muheim

CH
thomas.muheim [at] ovi.com
28. Dec 2012 - 11. Jan 2013 - Wave Camp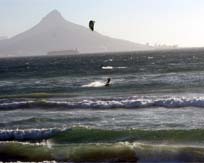 I was happy with the course. It was interesting to see different kitespots as there was not always wind in Cape Town. I had fun at the wave downwinders and experienced all conditions from small waves to big waves and winds up to 50 knots. There are a lot of memories I will never forget. Acommodation was great and the beach house is located perfectly. Had fun with instructor Ugo and would love to come again to do the same thing. Nothing got stolen and I didn't injure myself or got any sicknesses but I would recommend to rent a car when you come here.

Monika Simanic + Claudio Scherrer
IT
CH
monika.simanic [at] gmail.com
08. Dec - 21. Dec 2012 - Course A+B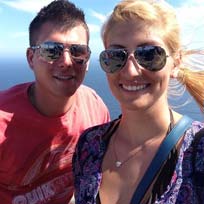 Ugo was a good, experienced instructor and his "step by step" concept is very good. He and the whole Kitekahunas team was very nice. We are also happy with the accomodation, the room was nice and the beachhouse is perfectly located. We couldn't say anything negative and would recommend it to everybody.

Julian, Nic + 3 children
Businessman
UK
juliantomlinson [at] me.com
22. Oct - 2. Nov 2012 - Course A+B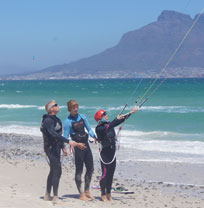 All the family had a great time. Instructors were good, giving you the confidence you need to kitesurf.

Gavin de Klerk
Software developer
South Africa
gavin [at] gavgapi.co.za
13. Oct - 21. Oct 2012 - Course B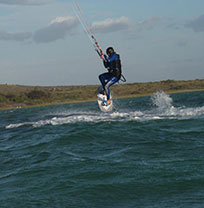 Instructor Ugo and his approach is very good. Achieved everything I wanted: going upwind, edging properly, gaining speed with confidence. I am very happy with the courses I took at Kitekahunas and I recommend it to others. I like the location at the beach and I also liked the accomodation very much. I appreciated the help with getting the right gear for me. I liked the radio feedback while kiting.

Tim Harris
Medical doctor
UK
Tim.Harris [at] bartsandthelondon.nhs.uk
17. Nov - 21. Nov 2011 - private lessons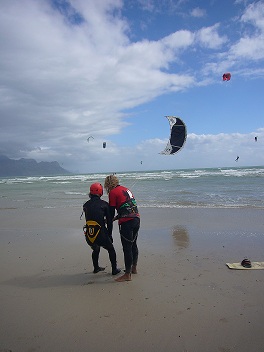 I enjoyed my time at Kitekahunas! Gilles, my instructor, was very sensible , patient and professional. The instant feedback via radio communication helped me to improve fast. My overall experience with Kitekahunas was very positive and I will certainly return for another course.

Emiliano Oliveira
Geologist
Brazil
emilianogeo [at] gmail.com
13. Mar - 25. Mar 2011 - Course B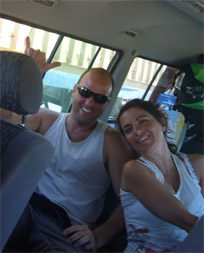 Although I was not so lucky with the wind, legendary as it usually blows in Cape Town, I had however great learning with low wind conditions and the staff was always taking us for the best conditions. Andy, Wim and Wolf are very good instructors and their tips in and outside the water helped me a lot! Kitekahunas owns a real kitesurfing playground considering downwind conditions in Sunset Beach! Definitely a place to return!

Michael Rübke
Freelancer Online Marketing
Germany
michi [at] mruebcke.de
12. Fe - 24. Feb 2011 - Course B/C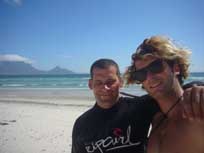 I got what I expected. I am still very happy that Andy, my personal Kitekahunas Instructor, taught me so well. During only 12 days I improved my skills a lot, learned finally even my first front roll and enjoyed every single moment. Keep on teaching kitesurfing skills like this - Kitekahunas! Hang Loose - Michi.

Tamara Napravnik
Freelancer Graphic and Web Design
Germany
tami [at] tamix.de
13. Mar - 25. Mar 2011 - Course A+B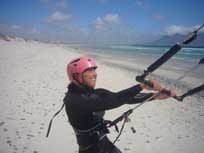 I came here without any experience in watersports and actually rather scared of deep water. Then my beginners course started and I dared to go on the water with my kite in Langebaan and soon later in Cape Town ... and this in the end with great success! After my three weeks A+B course I actually could ride and have huge fun in the waves of Sunset Beach! My special thanks goes to Wim and Andy, my instructors, for their patience and their empathy! After all these experiences here at Kitekahunas I actually cannot wait to train and perfect my riding upwind skills back home in Germany! Thank you Kitekahunas for the fantastic time! See you soon and my very best regards .. Tami ;-)

Thomas Manser
Elektro Projektleiter
Switzerland
thomaso1981 [at] gmx.ch
20. Jan - 30. Jan 2011 - Course B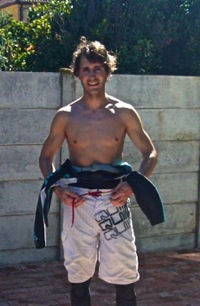 Firstly: Andy and Wim are excellent kitesurfing instructors. With some help of them I became definitely a much better kitesurfer and lived the great kitesurfing lifestyle here at Kitekahunas. Also the wind was really constant here, I went almost everyday kitesurfing, that was a lot of fun.

Julie Hübner
Make-up Artist
Germany
jule.huebner [at] online.de
31. Dec 2010 - 28. Jan 2011 - Course C/D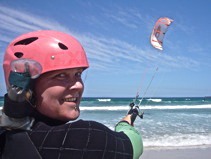 I had really nice vacations and i learned a lot. My best experience was the front roll and finally i learned how to do the back loop transition. Andy is an excellent trainer and he always motivated me to try out the moves, even if it means to crash a lot.

Edouard Rodier
Humanitarian Expert - European Commission
France
edouard_rodier [at] yahoo.com
31. Dec 2010 - 13. Jan 2011 - Course B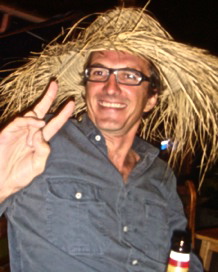 From scratch to riding upwind with Table Mountain on the background .. pleasant and successful holidays. Kitekahunas is a good concept, with just a few tuning, it would become unique.

Ollie Latter
Businessman
UK
oliver [at] boomeco.co.uk
10. Dec - 31. Dec 2010 - Course A+B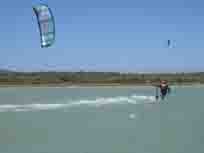 Came out as a complete beginner and in 15 days was riding and jumping and having lots of fun. Fully addicted to my new found sport. The quality of instructors was excellent, great coaching style. Wim is the best. Just hope one day I could see him ride. Thanks for a very relaxing and enjoyable holiday.

Martin Engelhardt
First Luitenant,Royal Danish Navy
Denmark
martin [at] engelhardt.it
03. Jan - 14. Jan 2011 - Course A+B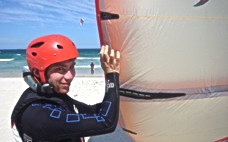 Sun, water, fun and not at least wind! Really enjoyed my stay here, learned a lot from the excellent instructors. I came with no experience at all and as I left, I actually can call myself a kitesurfer.

Dr David Wells
Medical Doctor / Radiologist
USA
david_wells [at] yahoo.com
1. Jan - 15. Jan 2011 - Course D/E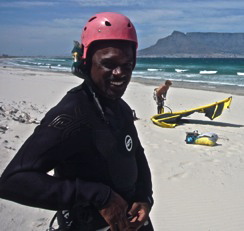 Without struggle there is no progress. Kitekahunas really pushed me to the limit in the most extreme conditions. This was essential in substantially improving my kiteboarding skills. Hats off to Andy!!!

Jeremy Rogers
Freelance Consultant
UK
jksrogers [at] mac.com
18. Dec - 31. Dec 2010 - Course C/D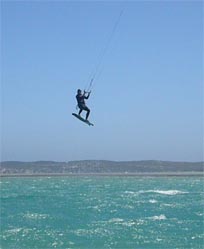 High quality concept, instruction and delivery. Feel I've progressed a long way and learnt a lot of new things. Overall experience more mixed though, the place would benefit from a more positive outlook. Have lots of good memories as well.

Rebecca "Tikky" Newman
Journalist
UK
rebeccaxnewman [at] gmail.com
18. Dec - 31. Dec 2010 - Course B/C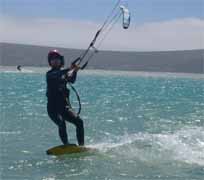 Not for the faint-hearted as Cape Town has waves; the instructors were excellent - though perhaps could have given more advice on radios. I improved a good deal in the course. As for Wim as the tutor: really the best. And once used to the sea you may never want to kite anywhere alse than Cape Town!

Tim Hill
Manager
UK
tim.hill [at] bain.com
18. Dec - 31. Dec 2010 - Course C/D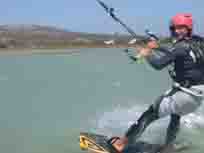 Great kiting spot, sensational wave-riding experience and learnings. Hugely professional instructors. A very enjoyable two weeks!

Matthias Willi
Team Leader at Bank
Switzerland
matthias.willi [at] me.com
04. Dec - 17. Dec 2010 - Course C/D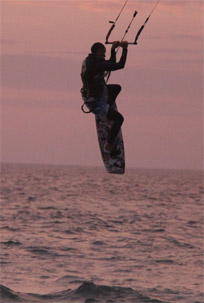 I have been here last year to learn kitesurfing and now I have returned for course C/D to learn jumping. I was successful. Kitekahunas has a good infrastructure, everything is clean and I enjoyed in particular: The free internet access, the very good, experienced kitesurfing instructors, the great kitesurfing spot in Cape Town, the ratio of instructors to students, which allowed for intensive training, the whiteboard with the daily programme.

Olivia Kuster
Medicine
Switzerland
olivia.kuster [at] hrgworldwide.com
22. Nov - 06. Dec 2010 - Course A+B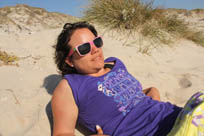 I really enjoyed the time with Kitekahunas in Cape Town. Special thanks fo Josefine's patience in teaching me kitesurfing. I will definitely come back and hopefully bring my kitesurfing skills to a new level: to learn jumping. What really amazed me is that Cape Town and South Africa has so much to offer next to kitesurfing, when the wind is not blowing. Beautiful country!

Alex
Medical Doctor
Austria
a.stix [at] chello.at
21. Feb - 04. Mar 2010 - Course D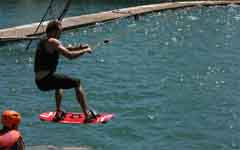 I had a wonderful time here in cape town – wind and waves were on our side most of the time. I really enjoyed Matt's professional teaching – he pushed me to new moves and tricks.
There were also plenty of activities for the few no wind days, such as wakeboarding in the cablepark, wine tasting and hiking up the lion's head.

Uffe Sorensen
IT Manager
Denmark
Us[at]bolia.com
24. Jan - 05. Feb 2010 - Course H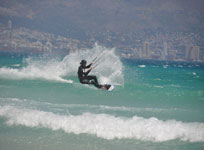 Thanks for good instruction to Gabe and Matt and pushing my wave riding to a more aggressive level. And thanks to the rest and the dog for a relaxed atmosphere in the house.

Andreas Sell
Chief Sales Officer
Germany
A_sell [at] hotmail.com
29. Jan - 05. Feb 2010 - Course B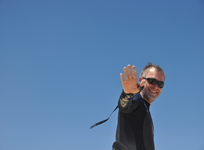 Very nice group of people in the course. Fantastic spot. Friendly and helpful instructors. Good rental equipment but too less wind in this week. A fantastic and relaxing week in Sunset Beach. I will come back to continue the sessions. Thanks to Wolf, Matt, Gabe, Mariska, Victoria and Bagle for a very warm and helpful atmosphere.

Jeroen de Kok
Managing Director
The Netherlands
Jeroen.dekok [at] gmail.com
10. Jan - 21. Jan 2010 - Course A+B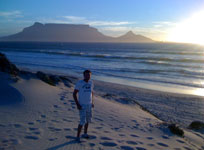 I had an awesome experience in Kiteboarding with Kitekahunas. From struggling with the kite, the board and the water to riding in a short time. I am afraid I'm hooked to the sport now!

Délio
Pilot
Portugal
Deliobrito [at] hotmail.com
02. Jan - 06. Jan 2010 - Course D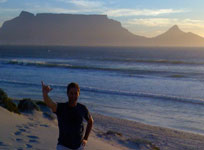 The wind was not on my side during my short stay, however when it came one day in Langebaan the experience just blew my mind away. This is a "young" team motivated and dedicated in building up a very interesting concept of kitesurfing training experience and as they fine tune this concept I believe it will only get better. If you are willing to take kitesurfing into the next level they will push you to that limit with their instruction, tips and insight either from observing you or by demonstrating for you. I will be back to see them taking off …

Patrycja
Consultant
Poland
Patrycja.weglorz [at] wp.pl
03. Jan - 17. Jan 2010 - Course B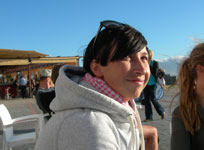 I have really enjoyed:
- The great atmosphere
- Professionalism of the Kitekahunas team
- Matt & Gabe flying high
- The sense of humour
- Bagle (the dog)

Dorian Sakowski
Senior Architect
Poland
Dorian.Sakowski [at] gmail.com
03. Jan - 17. Jan 2010 - Course D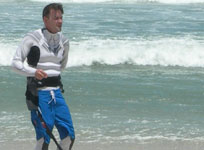 Objectives to be achieved: · Jumping · Advanced jumps · Transitions · Backloops Objectives fulfilled: · Jumps · Partially advanced jumps · Transitions General impression: I attended several kitesurfing courses in my life and for the first time I've obtained so professional assistance from the school. In fact the staff was very experienced in teaching and very helpful in assisting on the water. Each question was properly advised as well as many suggestions were given on their own initiative.

Peter Busch
Self employed
Germany
Peterbusch [at] gmx.de
27. Dec - 10. Jan 2010 - Course A + B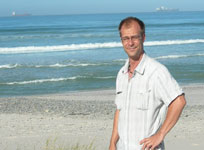 The kitesurfing spot Langebaan was the best place for me to learn kitesurfing, to learn how to get on the board. The kitesurfing spot Sunset Beach is for the more advanced riders really good. The Kitesurfing Beach House is very fine with a nice braai and a shop integrated. There are good and professional instructors. I have learned what to do and what not to do (1 handed superman loops) with the kite. During the course I have learned to handle the kite safe, l feel now comfortable with the kite in my hands.

Matthias Willi
Teamleader
Switzerland
matthias.willi [at] me.com
06. Dec - 18. Dec 2009 - Course A + B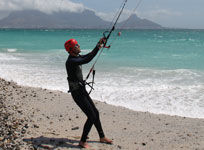 The support by the teachers was very close. There's always been somebody responsible around you. From my first day 'til the end of the course has been a big improvement in my Kitesurfing skills. When I came here, I had no idea about this sport. Now, I'm on a level to go even upwind. Thanks to this support especially by Gabriel, I gonna be able to continue practising this sport by myself.

Mariska Wildenberg
Student/trainee/instructor
The Netherlands
m.ariskaw [at] live.nl
22. Nov - 03. Dec 2009 - Course D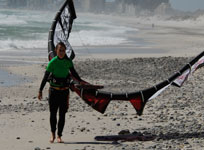 This weeks we have our second advanced kitesurfing course. During the courses I have seen the working of the unique concept: teaching advanced kiteboarders. All participants of the course set their personal goals for the course. Together with the instructors you take the challenge to reach your goal at the end of the course. What I like is the advanced teaching method with radio communication, each student receives immediate feedback, so you can correct your fault direct. I enjoyed it to be every day on the water with different locations and weather conditions. Even if the conditions are not so good everybody is enthusiastic. What I enjoyed the most were the downwinders with all participants and instructors together from Sunset Beach till Doodles (bar). A great experience is to live all together in the Kite Beach House. All different people, all with different goals and all with different nationalities but still one group. Not only kiting is important but also the lifestyle. Last but not least, don't forget the good party's at the Kitekahunas Beach House till late (and sometimes early) in the night!

Leila Nouar
Purchasing Manager
France
Leilanouar [at] hotmail.fr
22 November – 3 December 2009 - Course F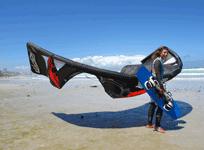 The spot I preferred was Langebaan Beach. We had a very special and lovely group, all coming from different countries. The room was pretty good.

Laura Theunissen
Student
The Netherlands
Lauratheunissen [at] hotmail.com
8.-20. Nov 2009 - Course B
The Kitekahunas house is a good place to stay. The people who work there are very nice, the food is all right and I liked it a lot to share a big beach house with a group of other kiters. The thing I enjoyed the most was kiting almost everyday on a different location. I had a very nice group and we've also had a nice time together when we were off the water. I learned to ride upwind and do transitions. Unfortunately I haven't learned to jump yet.

Doreen Liebenow
IT Consultant
Germany
Doreenliebenow [at] freenet.de
22. Nov - 03. Dec 2009 - Course A/B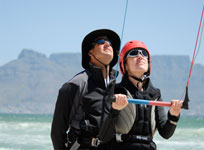 I have some statements:
- the location of Kitekahunas is a nice spot to live, near to the beach
- good atmosphere in the Kite Beach House with friendly people (and a friendly dog)
- lessons: clear explanation with good and useful theory
- really good attention for safety during the lessons
- personal instructions (by radio communication)
- my goals are achieved: to get on the board
- instructors are very competent
- there were suggestions to do (wavesurfing, cable park, excursions) on windless days
Thanks for the great time!

Dr. Wolfram Reiners
Director
Germany
http://kiteboardingc.com/profile/Wolfram_Reiners
8.-20. Nov 2009 - Course D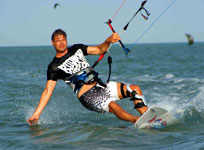 We have now had our first advanced courses run with the new teaching concept. All course participants are setting their clear personal goals for their course together with their advanced instructors. All students and instructors are always connected with radio communication on the water and this helps a lot to achieve a steep learning curve - simply because each student receives immediate feedback and can immediately correct his/her movements. We have visited several kitesurfing spots around Cape Town and again, this is of great help to achieve learning goals: the sheer variety of conditions is shaping the skills of our kitesurfing students towards much more versatility - i personally enjoyed very much the "Strand" kitesurfing spot, with small waves and perfectly mirror-flat sections in between. All this in 80 cm deep water simply helps to learn new tricks a lot. You can test and try .. adapt .. lose your board .. fetch it quickly and re-try. Till the new kiteboarding trick is safely landed. Otherwise, the programme around the courses with Cape Town's attractions, restaurants and night life is great. Not to mention the fantastic parties at the Kitekahunas Beach House, which sometimes develop out of the blue ... well done everybody!

A Banker
Switzerland
8.-20. Nov 2009 - Course B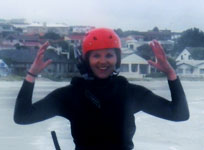 I was very interested in improving my kitesurfing skills and wanted to escape the cold days in Switzerland. So I decided to look after a kitesurfing school in a warm region and found the very professional Internet page of Kitekahunas. The school is situated near Cape Town on Sunset beach. All participants are living in the nice beach house. I had my own apartment, very clean and charming. The atmosphere is very relaxed. Although the first 5 days were cold and rainy we had great kitesurfing sessions (in the lagoon of Langebaan with flat water and in the Atlantic Ocean, on different spots). I have to say, that the cold water of the Atlantic is no problem because we all were wearing wetsuits; we felt warm and comfortable. The instructors were standing on the beach, connected with us through radio instructions, while we were trying to surf down- and upwind and coming back to the point we started from. We had a lot of fun, not only on the water. I reached my goals that I feel now very comfortable on my board and I became an independent kitesurfer. Now I am ready for the next steps: jumping…

Dr. Henrik Fastrich
Managing Partner
Germany
fastrich [at] orlandofund.com
8.-20. Nov 2009 - Course B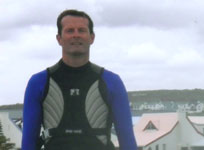 I found out about Kitekahunas on the internet finding their very professional website and after finishing the course I can say that they have lived up to their promises. We kited in three different locations: Atlantic Ocean, Indian Ocean as well as in a very nice lagoon in Langebaan. By the way cold water which I was worrying about is no issue at all if you have a good wet suit. Despite of unusually cold weather conditions we had 5 out of 7 days water time with radio instructions from beach while fighting with water starts and going point to point. I liked the atmosphere in the Kite Beach House even though you have to get used the very relaxed kitesurfing lifestyle.