Kitesurfing Apartments Sunset Beach
for your Kiteboarding holiday incl. storage in Blouberg - Table View - Sunset Beach - Big Bay
We offer 5 self-catering apartments, all with en-suite bathrooms, breathtaking views from lounge, deck and even when taking a shower. The house is practically on the beach, a stonethrow away from your breakfast table. In 2011 the apartments were totally renovated and a modern design can be felt in every corner of this luxurious home.
All apartments offer sliding doors to the deck and unobstructed views of Table Mountain and/or the ocean. Kitchens are fully equipped incl microwave but there are also restaurants and cafes close by.
All bathrooms are spacious and exclusively tiled in natural stone. Floors are warm and rustic, wooden look. Kingsize beds will let you sleep well.
The apartments can be reached in 25 min from the airport by taxi.
You are only 15 min away from the famous Victoria & Alfred Waterfront. From there it is a 10 min drive to Table Mountain's cable car station.
It is about 200m upwind from KITEKAHUNAS.
Surf storage
Free WIFI
Pool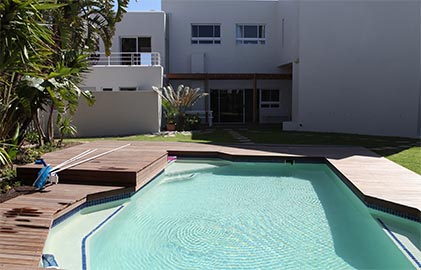 Garden and Pool
Lighthouse Apartment (High / Euro 175 per Night)
You wake up and from your bed you can see how Table Mountain smiles at you or see the ocean and hear the surf sing. 180 degree views make this apartment very special. The deck is very spacious. In the bathroom you find a round showerhouse. The Lighthouse sleeps 2 people, there is one doublebed and one sleeper couch, all in one big room.
Lighthouse Apartment
Tableview Apartment (High / Euro 155 per Night)
2 rooms.The shower and bedroom are facing Table Mountain - your day starts off well . The deck opens to the garden and pool area overlooking sanddunes and the ocean. Tableview sleeps 2- 4 people.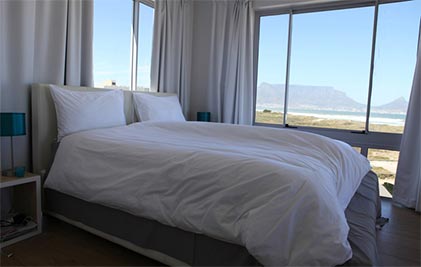 Tableview Apartment
Upwind Apartment (High / Euro 90 per Night)
The smallest apartment and it sleeps 2 people. The deck opens to the ocean and the garden. The bathroom offers a beautiful shower.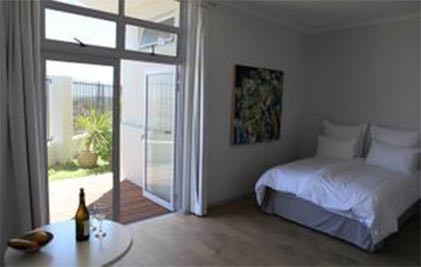 Upwind Apartment
Onshore Apartment (High / Euro 165 per Night)
2 spacious rooms, bedroom and lounge and you can choose between 2 decks. Views of Table Mountain and even from the toilet ocean views ! It can sleep 2 - 4 people.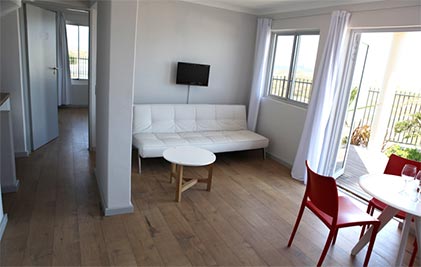 Onshore Apartment
Downwind Apartment (High / Euro 160 per Night)
1 room apartment where the deck opens to the garden and viewing the ocean - even from the shower ocean view. There is a comfortable chair hanging from the ceiling. This chair will make you dreaming ! It can sleep 2 people.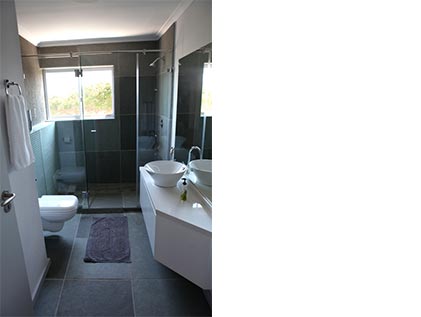 Downwind Apartment
Our recommendation: Stay with KITEKAHUNAS in our NEW KITE VILLA - the ultimate KITESURFING GUESTHOUSE. Stay directly at our school, together with the other kitesurfers. Luxury guesthouse with salt-water swimming pool 50 meters from the beach. You do not need a car. Restaurants and the City Bus station is in walking distance.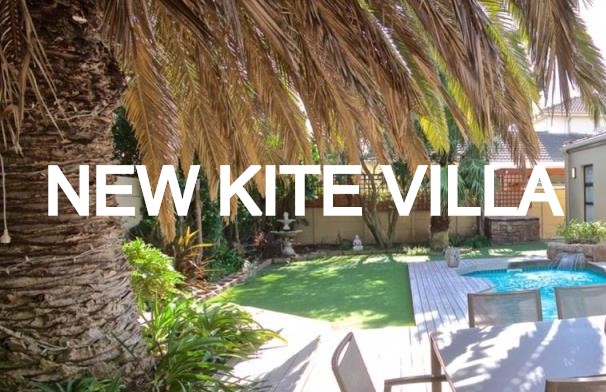 From EUR 49 sharing. From EUR 99 for a luxury double room. Enquiries and bookings for the KITE VILLA - Kitesurfing Guesthouse >>
Enquiries and bookings for the Accommodation is here >>
You can also book our A+B+C+D Beginner Kitesurfing Course or

FURTHER KITESURFING ACCOMMODATIONS: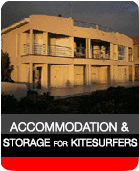 To see suitable dates and the wind season for kitesurfers and windsurfers please go here: