Kitesurfing Villa Sunset Beach
for your Kiteboarding holiday incl. storage in Blouberg - Table View - Sunset Beach - Big Bay
At stunning Sunset Beach, being just a stone's throw away from the Atlantic Ocean and with picturesque views of Table Mountain our exquisite villa is located.
Our modern mansion is located in Sunset Beach, a sophisticated and secure residential area. The villa has been styled with a passion for every single detail. Solely premium fabrics, high-quality furniture and selected materials have been used.

Our long-lasting experience in managing guesthouses and lodges has been implemented in the design, the features as well as the equipment of the villa.
We give top priority to providing you with everything needed for a memorable and comfortable stay. Stunning views, elegant decoration and most of all our individual service will ensure fantastic and most pleasant holidays.
It is about 150m upwind from KITEKAHUNAS.
The Villa offers luxury rooms, deluxe rooms and junior suites exclusively
Free WIFI
Pool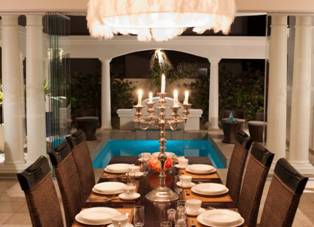 Dining Room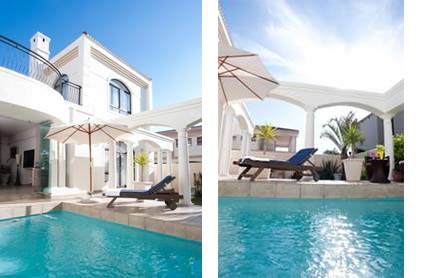 Beautiful Pool
Luxury Rooms:
Beds: King or twin bed
Bathroom type: En-suite bathroom (shower)
Description: All the Luxury rooms consist of a shower/WC and each individually designed. The room has TV, Safe and Hairdryer.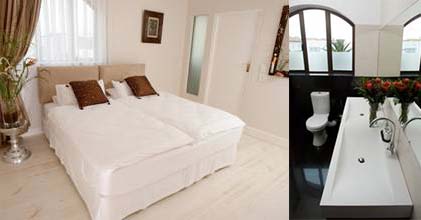 Luxury Room
Deluxe Rooms:
Beds: King or twin bed
Bathroom type: En-suite bathroom (shower)
Description: Specialist designed deluxe rooms with extra length deluxe king size beds, en-suite bathroom with walk in shower. The Room has TV&DSTV, Safe and Hairdryer.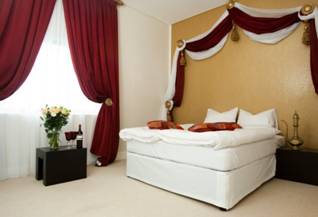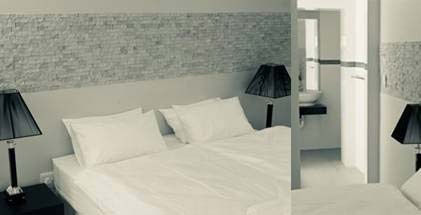 Deluxe Rooms
Junior Suite:
Beds: Design King Bed, Extra length
Bathroom type: En-suite Bathroom (Bath and/or Shower)
Description: Each one is individually decorated to match international standards and to satisfy our guests highest demands. This room has an extra length king size bed with an en-suite bathroom with walk in shower. Most of the suites have their own terraces/balcony or fireplace over looking the garden and pool area. A sleeper couch can be ordered on request. The room has plasma TV with DSTV, Safe and Air Conditioning.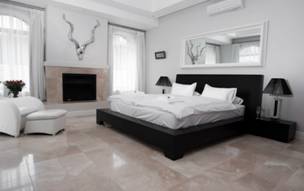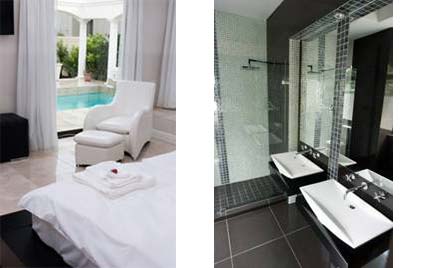 Junior Suite
Rates:
Low season from EUR 62 - 82 per room
High season from EUR 92 - 140 per room, per night
Peak season December/January: Please ask us
Our recommendation: Stay with KITEKAHUNAS in our NEW KITE VILLA - the ultimate KITESURFING GUESTHOUSE. Stay directly at our school, together with the other kitesurfers. Luxury guesthouse with salt-water swimming pool 50 meters from the beach. You do not need a car. Restaurants and the City Bus station is in walking distance.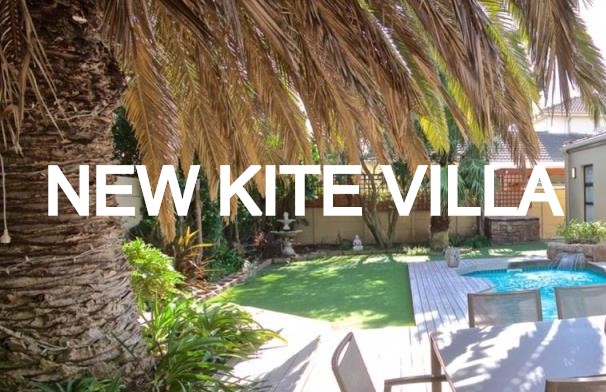 From EUR 49 sharing. From EUR 99 for a luxury double room. Enquiries and bookings for the KITE VILLA - Kitesurfing Guesthouse >>
Enquiries and bookings for the Accommodation is here >>
You can also book our A+B+C+D Beginner Kitesurfing Course or

FURTHER KITESURFING ACCOMMODATIONS: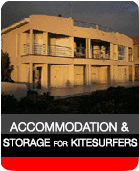 To see suitable dates and the wind season for kitesurfers and windsurfers please go here: